Over the past couple of years, gaming smartphones have carved a niche for themselves in the Android market. Users looking for that extra oomph in performance, trigger buttons for FPS gaming, and the RGB jazz are attracted to gaming phones. Asus is a well-established name in the gaming industry and one that has been making gaming smartphones since 2018.
Asus ROG Phone 5 Review: Ultimate GAMING Performer
Click To Tweet
Asus ROG Phone 5 – The Ultimate GAMING Performer
Now, Asus launched the ROG Phone 5 series in India earlier this year, giving us yet another powerful beast. With this launch, the company skipped the ROG Phone 4 (because the number four is considered unlucky in China) and jumped directly to the ROG Phone 5 moniker. It's been three months since the device has been available in India, and if you are on the fence about purchasing this gaming phone, we have you covered. Read on till the end to know if the Asus ROG Phone 5 is worth your money.
In-Box Contents Of ASUS ROG 5
Asus ROG Phone 5
30W HyperCharge QC 4.0 power adapter
USB-C to USB-C cable
Aero Case
ROG Stickers
User manual and warranty card
Now, let's get to benchmarks and real world performance review, after all, that's why you are here.
Benchmarks & Performance Numbers
Here are the AnTuTu and Geekbench scores of the ROG Phone 5 with X mode (performance mode from Asus) enabled: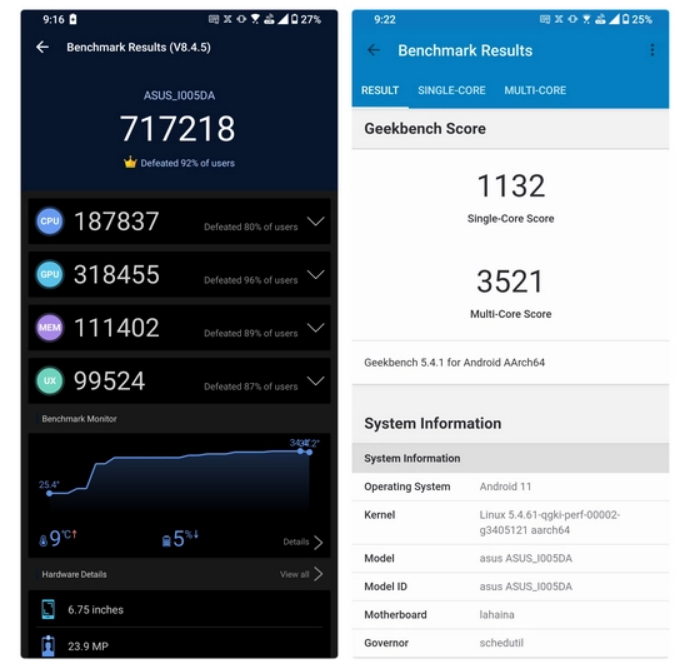 And here's what the device scored without X Mode optimization. As you can tell from the AnTuTu benchmark scores of the ROG Phone 5, you get a substantial performance boost by enabling X Mode. The device scores 100,000 points higher on AnTuTu and the multi-score score in Geekbench also see a decent jump from 3252 to 3521 while using the X Mode.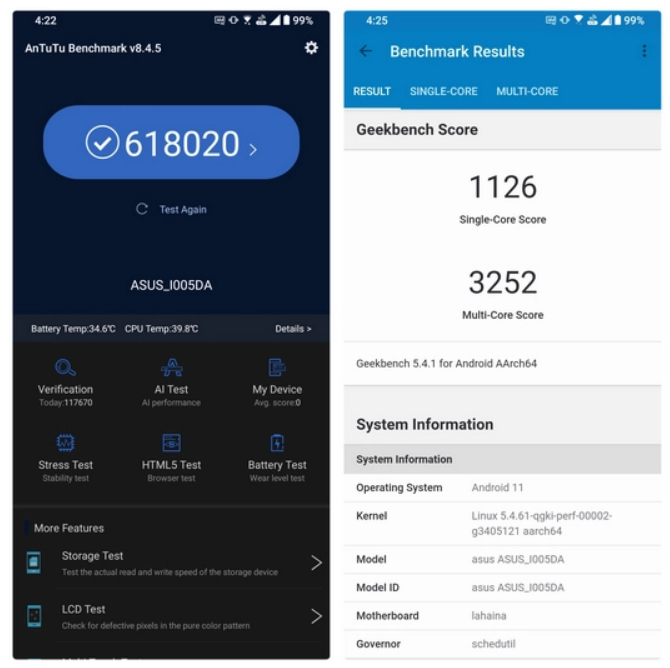 [wpdiscuz-feedback id="xwvb18jvk9″ question="Do you like ROG 5?" opened="0″]Gaming Performance and Thermals Review[/wpdiscuz-feedback]
During the course of this review, I played some of the popular Android games, including Battlegrounds Mobile India, Call of Duty, and Genshin Impact. All games were set to the highest settings possible. What I noticed while I played demanding games with the ROG Phone 5 is that it does get noticeably warm after an hour of continuous gameplay. However, that's not entirely a bad thing.
With the ROG Phone 5, Asus has worked on improving heat dissipation. As a result, the device strives to even out the excess heat generated while performing some resource-intensive tasks. While the device gets heated up when you are pushing its limits during intense gaming sessions, it doesn't get uncomfortably hot.
As per Asus' temperature measurement overlay (see image below), the device hit up to 50 degrees Celsius during my gameplay sessions. However, I didn't notice frame drops even then. On regular day-to-day usage, there's no heating issue with this device.
Final Review & Our Rating
Having said that, if you are in the market for a gaming phone, the ROG Phone 5 is a solid option. If gaming is in your top three priorities and regular software updates and camera performance are not something you care a lot about, you won't regret picking up the ROG Phone 5.
Source: Beebom