If you are going to buy something from G2A and you are confused that this is safe or not and you want to check its review then today I am Going to give you G2A Review and will tell you its Pros and Cons.
G2A Review: Things You Need to Know Before Buying
Click To Tweet
What is G2A?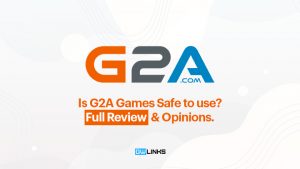 G2A is a global digital marketplace for gamers. G2A is a company registered in Hong Kong.  G2A has Offices in Poland and Hong Kong and there mostly work is done from Poland. Company Headquarter is available in Netherland.
G2A is an online marketplace for gamers, their main product is offering the game key codes to such a platform as steam, origin, and Xbox. G2A also offers physical products but they did not sell any physical products themselves but they act as an intermediate. They offer a platform to buyers and sellers and acts as an intermediate. They did not deliver any physical items.
G2A Review: Is G2A Legit?
Some people have questions about G2A like is buying from G2A legit or not. But let me tell you that buying any game key at a low price is not illegal unless the seller does not get that key in an illegal way.
Buying a Game for less than its retail price is not illegal. For example, if you buy a key and you want to sell it at a low price and someone buys from you at in low price than the original then it does not count as illegal. But if you bought a key from any illegal way then it counts as illegal but until the seller buys it from legal sources then you do not have to worry.
G2A has more than 200 million customers and 400000 sellers from 200 countries and is a famous company in the market so you do not need to worry about illegal ways.
Game Developer has no control over where game keys are purchased, but if they want they can revoke any keys they considered ass fraudulent. It is also possible that a game key could work on steam one day and the other day it not work. It all depends on the game developer.
G2A Pros and Cons:
Now I will tell you some advantages and disadvantages of buying anything from G2A.
G2A Pros:
A large collection of Sellers and affordable game prices
Instant Key codes delivery
You can buy all gaming Accessories like gift cards and key codes etc.
Review of a Product from previous buyers
Support for solving issues with the seller
All fees and tax already in the price.
G2A Cons:
G2A takes high additional Charges
Inaccurate descriptions on some product pages
G2A inactivity fee
Sometimes you need to wait for a support response
Sometimes G2A ban uses for various reasons
Our Review For G2A Games
G2A offers you many things to buy related to gaming like keys, accessories, and many other things. G2A also has more than 200 million customers and 400000 sellers.
G2A offers you all types of gaming accessories but their main product is key codes and if you buying something physical product then you need to wait for few days to deliver on the address but if you buy key codes from G2A that is their main product then you will get you key codes instantly or in few minutes.
You can also check reviews of any product from a previous buyer you want to buy. you can also ask any query related to the product.
When you go-cart for buying product you will see all the price with all additional charges including. G2A takes high additional charges from buying any physical product.
Overall, if you want to buy any key code then you can buy from it but before buying you should check its reviews and also read the full description of the product, buying games from G2A is completely safe and is not illegal at all.
  use the laptop as a monitor for Xbox
Final Words
G2A is a digital marketplace for gamers where gamers buy game key codes and some physical kinds of stuff for their gaming setup. They have over 400 million customers from 200 countries. You can check the reviews of the previous owners who have key codes and then you can buy. You can also contact the support team of G2A if you face any contact but sometimes you will wait for their support team to get back.
You can check the complete G2A reviews with all their pros and cons and is it legal or not. Read the Complete Review of G2A on GamingWorldlinks.