GTA 5 will be free to download from the Epic Games Store, which means it's yours to keep forever if you snag it before May 21. It should be available at 8 AM PT / 4 PM BST starting on May 14.
Part of the Epic Games Store's ongoing free games promotion, GTA 5 is arguably the biggest title the publisher has given away yet.
Rumours were circulating that Rockstar's action-adventure epic would be given away for free yesterday, and the news was confirmed by Epic themselves.
"GTA 5 PC" will be FREE on the Epic Games Store, and yours to keep forever!
Click To Tweet
GTA 5 PC will be FREE on the Epic Games Store
Apparently, Epic Games Store posted an ad for GTA 5 on Twitter. According to the video advertisement, GTA 5 will be "yours to keep forever" on the Epic Games Store, and you won't have to pay a single penny.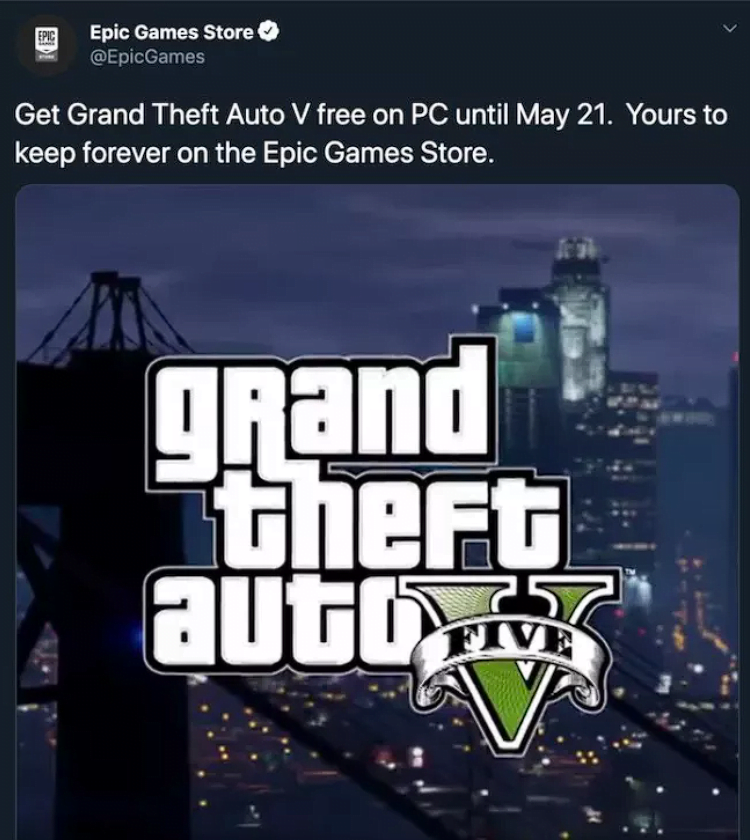 Gamepressure.com was one the first to receive a tip from an anonymous source and their website stated
"The free edition of GTA V will release as Premium Edition. In addition to the game itself and access to Grand Theft Auto Online, it will also offer a lot of additional content. As usual, adding the game to the library during the promotion makes the game remain yours forever," the website said."
For some reason, Epic Games Store deleted the ad; but not before a Twitter user, Wario64 managed to grab a screenshot of the tweet.
It's safe to say that offering GTA 5 for free is Rockstar's attempt to push more players towards GTA Online. That is because GTA Online microtransaction brings a lot of money for Rockstar.
Nevertheless, grabbing GTA 5 for free is an excellent opportunity for players who don't own the game as of yet. The gigantic game title will be available for free on Epic Games Store starting today, and the offer will stay until May 21.
Make Sure To Share The News With Your Friends & Family, You can download the latest games from our website GAMINGWORLDLINKS also!