If you are a max Payne game lover and looking for some goated from Max Payne 2. Check out these 20 Max Payne 2 Quotes on Gamngworldlinks.
20 GOATED Quotes From Max Payne Game Series - 2021
Click To Tweet
Wiki: Max Payne 2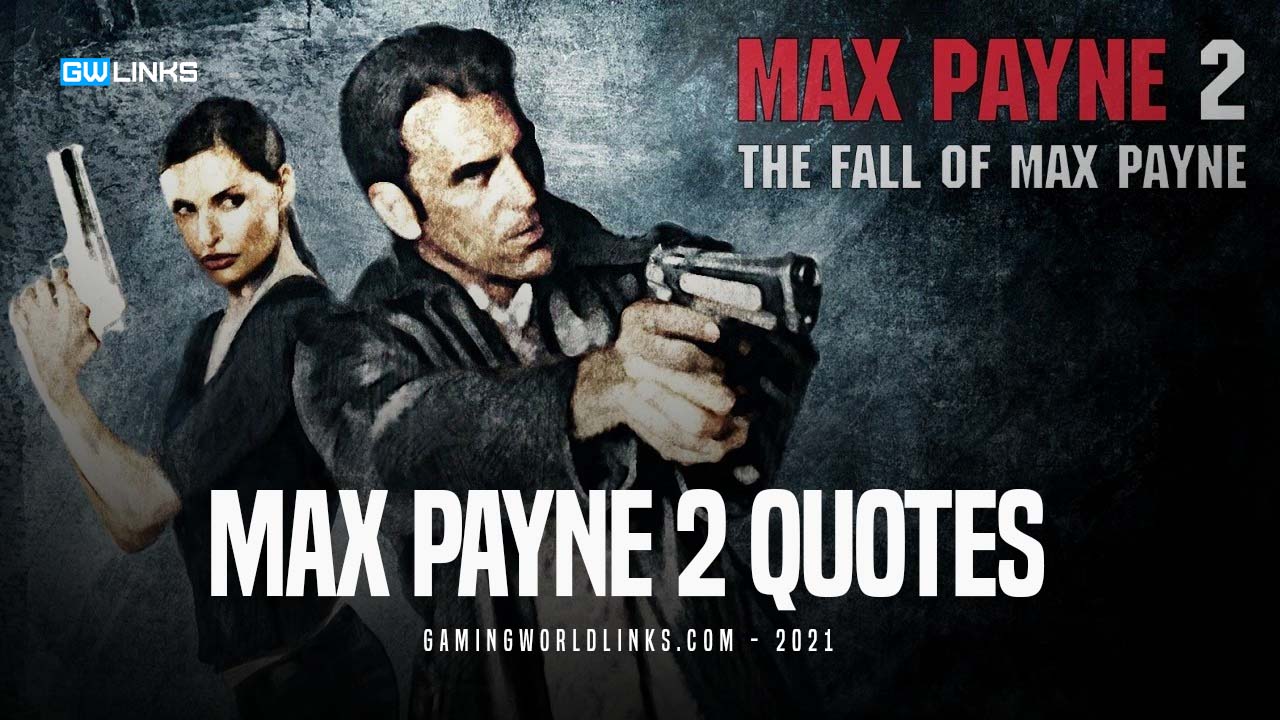 Max Payne 2: The Fall of Max Payne is a third-Person shooter video game that is developed by Remedy Entertainment and published by Rockstar Games in October 2003. It is the sequel to Max Payne that was developed in 2001 and the second installment in the Max Payne series.  Max Payne 3 is available for Microsoft Windows. PlayStation 2 and for Xbox in 2003.
Max Payne 2 is a single-player game where you continue the story of Max in the game. Max Payne 2 continues the story of the titular character and a detective for the new york police department and former vigilante, as he is reunited with contract killer Mona Sax and must work with her to resolve a conspiracy full of death and betrayal.
Max Payne 2 received highly positive reviews and be praised because of its focus on action and story. Max Payne 2 also received industry rewards including outstanding art direction at the golden satellite awards 2004 and editors choice awards from Gamepro, IGN, and GameSpy.
We all know max Payne game franchise and it was one of our favorite games in our childhood. Most of us still play this game because of its amazing story and action. Max Payne's story is amazing and its quotes are goated. Max Payne has some amazing Quotes you should Know as a Max Payne fan.
Also Read: Max Payne 3 Mods
Max Payne 2 Quotes
Check out these 25 amazing quotes from max Payne 2
"One last thing left to do. I was compelled to give Vlad his gun back… one bullet at a time." – Max Payne.
"Vlad was right. There are no choices. Nothing but a straight line. The illusion comes afterward when you ask 'Why me?' and 'What if?' when you look back, see the branches, like a pruned bonsai tree, or forked lightning.- Max Payne.
"If you think nothing can get to you, you're lying to yourself."- Max Payne.
"Like all the bad things in my life, it started with the death of a woman. I couldn't save her." – Max [Payne
"The past is a puzzle, like a broken mirror. As you piece it together, you cut yourself, your image keeps shifting. And you change with it. It could destroy you, drive you mad. It could set you free."- Max Payne.
"I want to sleep, to forget. To change the past. My wife and baby girl back." – Max Payne.
"Hypothetically, if the only choice you've got is to do the wrong thing, then it's not really the wrong thing, it's more like fate." – Vladimir 'Vlad' Lem.
"Without Mona's help, I'd be a dead man. Suddenly, for the first time in I don't know how long, I realized, I didn't wish to be dead." – Max Payne.
"The dead had plenty to say. And once they started, they would never shut up. Their words would keep you awake at night. The bodies, all the evidence of all the murders the cleaners had done, all the answers. It would take days to dig through it." – Max Payne.
"The genius of the hole: no matter how long you spend climbing out, you can still fall back down in an instant." – Max Payne.
"Einstein was right. Time is relative to the observer. When you're looking down the barrel of a gun time slows down, your whole life flashes by, heartbreak and scars. Stay with it, and you can live a lifetime in that split second." – Max Payne.
Death is inevitable. Our fear of it makes us play save, blocks out emotion. It's a losing game, without passion, you're already dead. – Max Payne
I started to wonder if my luck was about to run out, when I realized, it had a long time ago. Max Payne
He was trying to buy more sand for his hourglass. I wasn't selling any. –  Max Payne
In this hall of mirrors built by liars, I am a pale reflection of myself.
One thing you can count on: You push a man too far, and sooner or later he'll start pushing back.  – Max Payne
I don't know about angels, but it's fear that gives men wings. – Max Payne.
What's possible in dreams suddenly makes no sense. – Max Payne.
The past is like a broken mirror, as you piece it together you cut yourself. Your image keeps shifting and you change with it. – Max Payne.
One last thing left to do. I was compelled to give Vlad his gun back, one bullet at a time. – Max Payne.
Also Read: Max Payne 3 Exposed Apk
Final Words
These are some of the best Max Payne 2 quotes from the Max Payne game series if you are a fan of the Max Payne game franchise or you are looking for some goated quotes from Max Payne 2 then here are all the best quotes.
Stay tuned for more content!